Chizi's Tale: The Countdown Begins!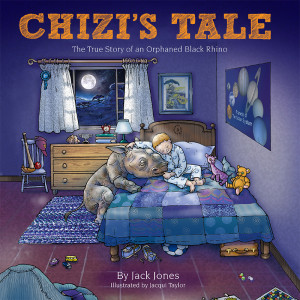 TEN DAYS . . . before Chizi's Tale officially goes on sale—and we couldn't be more excited! For readers just joining us, a little background:
In Zimbabwe during a recent August, two park rangers made a surprising discovery. They found an abandoned baby black rhino, only days old. They called the park manager who, knowing the rhino could not survive alone, did something as surprising as the discovery itself: he took the baby rhino home. Chizi's Tale is the true story of that baby rhino. Chizi still lives with the park manager, his wife, and their children until he matures and can be released back into the wild. Written by  a young author determined to share Chizi's story as a way to help save the black rhino, Chizi's Tale is a remarkable, moving story about an endearing and vulnerable rhino and the brave family helping him. Black rhinos are critically endangered. Saving Chizi and helping him to return to his natural habitat is vital to helping his species survive.
And so, this September we welcome the publication of Chizi's Tale: The True Story of An Orphaned Black Rhino, a children's picture book written by Jack Jones, a high school senior, and illustrated by Jacqui Taylor (Pub. date September 8th, Keras.)
Jack Jones is a senior in high school at Brunswick School in Connecticut, where he is on the football, wrestling, and tennis teams. Every summer since he was a child, he has travelled to Africa where he has learned the importance of preserving and protecting nature. He is the youngest of four children, and he likes surfing, writing, and New York Giants football.
Jacqui Taylor lives in Zimbabwe. She wrote and illustrated A Hong Kong ABC, An African ABC, A Baobab is Big, and The Queen of Green.
The Wenham family, with whom Chizi lives, and illustrator Jacqui Taylor will travel to the U.S. in September for select appearances. Colin Wenham has worked in the field of conservation for the past 25 years and has had extensive experience in game capture and management of Southern African animals, which include both species of rhino. He has a deep passion for wildlife and wild places and believes in protecting them for future generations.
All proceeds from the book sales will be donated to Tusk. Tusk has built a reputation for identifying and supporting an impressive range of conservation and sustainable community development and initiatives right across Africa. The charity, whose Royal Patron is Prince William, The Duke of Cambridge, invests in programs which use conservation as a tool to alleviate poverty, improve education and reduce conflict, while also protecting areas rich in biodiversity. Funding is focused on the protection of endangered species and habitats, construction of schools, implementation of water projects and improving livelihoods through the creation of nature-based enterprise. Tusk is highly efficient in delivering donor funds with the maximum possible impact. (Tusk is UK Registered Charity No 803118. Tusk USA is a 501(c)(3) non-profit organization. EIN 30-0190986.)
Please help save the black rhino—tell everyone you know about Chizi's Tale and pre-order your copy today! Or pick one up at your favorite local bookstore beginning September 8.